Gran Caffè Ristorante
in Venice
San Marco Square, 121
Since 1775, Quadri has been considered a symbol of gastronomic excellence, combined with traditional Venetian hospitality. Quadri offers a charmingly intimate ambience, in a unique location directly overlooking the mystical beauty of St. Mark's Square. The utmost attention has been given to the Restaurant at every detail, from the authentic Venetian furnishings to the fine porcelain and silver tableware.
Our chefs use only the freshest of seasonal products to create exquisite dishes which will tempt even the most refin palate - a synthesis of classic flavors and classic recipes, for example baked ice-cream - an iresistible speciality of Quadri, a blend of meringue, ice cream and Amaretto liqueur.
Venetian and Vegetarian dishes are significantly represented in our à la cart menu.
Quadri Coffee Rooms on the ground floor, with their mirrored walls and ornately decorated panels, present a perfect setting to enjoy an espresso or cappuccino, just as the Venetians have been doing for centuries in the traditional "bottega del Caffè".
And surely there is no better place to enjoy an aperitif or an after dinner liqueur, than the terrace of the Gran Caffè Quadri, against the splendid backdrop of St. Mark's Square, while listening to the melodic strains of the Caffè Orchestra.
| | | | |
| --- | --- | --- | --- |
| Gran Caffè | interior capacity: | Ponga Room | 50 persons |
| | | Cocktail Bar | 20 persons |
| | exterior capacity: | Terrace - San Marco Square | 240 persons |
| Ristorante | total capacity: | | 75 persons |
| | | Ducale Room | 28 persons |
| | | Correr Room | 45 persons |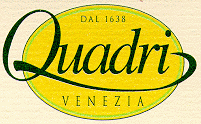 30124 Venezia - Piazza S.Marco 120
Tel. 041/5289299-5222105
Fax 041/5208041
e-mail: quadri@quadrivenice.com
---